Hi my loves! How is your week going? We hope you are doing well, taking the opportunity to do everything you need to, but resting and relaxing as well.
We are always bringing new crafts to inspire you, come up with new ideas and new items to sell. Today we are going to learn two items in the same pattern, the Willy the Whale and the Splish-Splash blanket.
Both items are made of crochet, that versatile technique that already has our heart. Crochet blankets are such classic pieces, they are present in almost every home. If you don't have one today, you already had one in your childhood because crocheting is a very old technique that mothers and grandmothers used to do to complete the baby's layette. And the pieces are very comfortable, they are soft, they do not harm the skin of babies, they do not tighten.
And besides the blanket, you will learn Willy, a super friendly whale that wins the hearts of all children. It looks beautiful in the decoration of the children's room, in the toy room and they will love being able to hug this new friend. The crochet has those basic stitches that are used to make a lot of items and with this pattern it's not difficult. If you're new to crocheting but want to learn, read this pattern.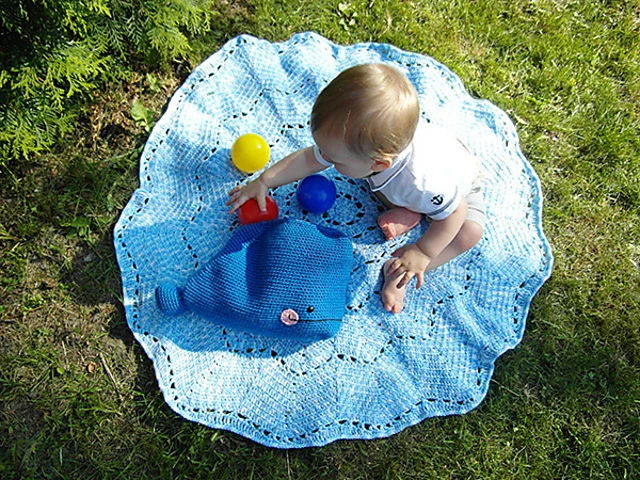 Image / Pattern / Tutorial: Ravelry
The stitches are not difficult and the rounds are easy to understand. In addition, the pattern is very detailed and we are sure that there will be no doubts. Crochet is also a cheap craft, not many materials are needed. When choosing the yarns you want, there are many options and it can confuse you. In the pattern, the piece's designer leaves a suggestion of the yarn used. Read the entire pattern a first time.
Read it again if necessary and only then start crocheting. The best thing about crochet is that you can do the same stitch several times with the same material. Do a round and if you don't like the result, break up and try again. Do not be discouraged or give up, you will see that, with practice, it will get simpler and simpler.
The complete pattern is available on Ravelry. You can download the pdf and save it to have access whenever you need it. Did you like it? We really want to know your opinion and, if you have any suggestions, you can leave them here too. Read the pattern, separate the materials and let's crochet!