Hey sweeties! We missed talking and sharing new things with you. How have you spent these last few days? We hope to find you all well and looking forward to having an amazing week together with us. Today's pattern reminds us that crochet is one of the most versatile things you have. The Crochet Not for Jogging Joggers is an incredible pants, super cool and with a model that is very high. Crochet pants may be as new to you as they were to us.
It is a super comfortable model and perhaps this is one of the biggest advantages of this craft. Crochet pieces are always very flexible and adapt to our body without squeezing or causing any discomfort. So that this doesn't become a problem, look at the sizes in the pattern and measure what fits you best. Remember that yarn pieces tend to lace up a little as you wear them, but don't make them too tight so they don't make you uncomfortable.
As for the colors, you already know. Think about the looks you want to use, choose the colors that will match and abuse your creativity. If you are thinking of making pants for colder days, you can use those thicker yarns. Thinner yarns don't bring as much heat to the piece, but they make it thinner and more fluid. We are sure that after you make the first one, you will want one in every color and for all seasons.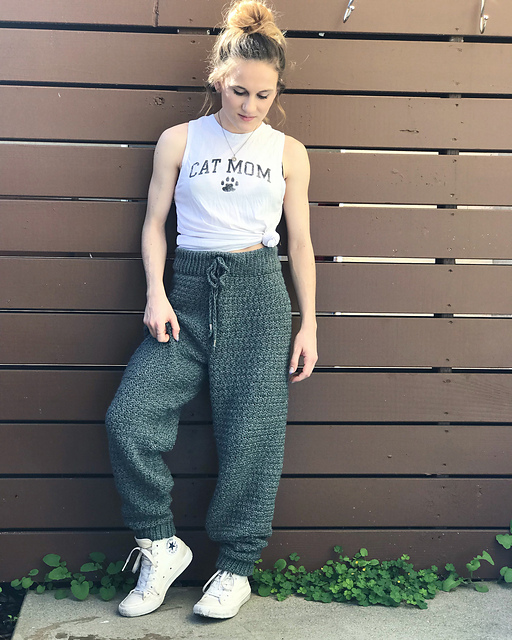 Image / Pattern / Tutorial: Ravelry
It's a great gift option for dear friends, to sell and to have in your wardrobe. Regardless of the yarn, remember to make sure they are quality yarns, to have perfect pants for longer. Handcrafted items are more sensitive, be careful when washing, do not use hot water or chlorine bleach. The pattern is available on Ravelry.
See all the details, materials and information that the designer asks for and instructs you and only then start crocheting. Don't forget to come back and tell us how it went. We are very happy to have this exchange with you and, if you have any suggestions, any pattern you want to learn, comment here too. It is always a pleasure to have you here and to share all this with you. Time to crochet!