Hello my loves! We hope to find you all well, enjoying the weekend close to the ones you love. If you, like us, like to take a few hours even on the weekend to crochet, we are here to share a special pattern with you. The Kenzie Skirt is a very beautiful pattern, colorful and perfect for gifting our little princesses.
Crochet is that craft technique that will not leave our daily lives for a long time.
They are present in decorative items in the house, in our clothes, in the blankets. It's an old technique, full of particularities, textures, and each different stitch generates a new pattern.
In this pattern, you can use different colors and make colorful rounds just like the designer did. You can change the shades of the same color or make the entire skirt in one color.
Choose quality yarns and prefer yarns that are not too thick because skirts are usually worn on cooler days. As for sizes, in the pattern you will see different measurements. To adjust size you can change hook size. Alternatively you can adjust your chain length.
Just be sure your starting chain is multiples of 6. The kenzie skit is a very nice model, but not the easiest. The designer indicates as an intermediate level.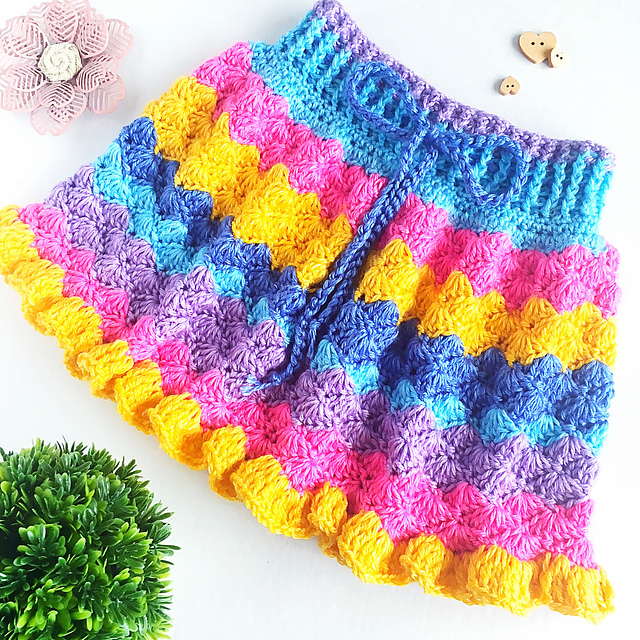 Image / Pattern / Tutorial: Ravelry
If you don't feel safe, don't go by the pattern level. Read it first, read it again and understand all the stitches it asks for. Do the stitches a first time, don't like the result? Disassemble and try again. The important thing is not to deaminate or give up on this interesting technique.
The complete kenzie skirt pattern is available on Ravelry. You can download the pdf document and save the template. If you still don't feel confident to make the skirt, keep this model with you and look for simpler pieces.
But we trust you a lot and we are sure you will make it. This model is beautiful for gifting loved ones, nieces, goddaughters, and daughters. It is also that perfect option to earn extra money.
If you still don't sell your crafts, start spreading the word among your friends, soon everyone will know that you make beautiful things. Be proud and cover the due value, your craftsmanship is unique and the pieces deserve to be valued. Tell us what you think, we look forward to your feedback.