Hi everyone, nice to see you here at Crochet Art Free. It is very gratifying to know that you remember us when it comes to crafts. That's why we are always bringing news, different patterns and techniques to inspire you to keep creating and evolving. Only with practice can we increase the difficulty of the patterns and have increasingly incredible results.
Thinking of making a different quilt model, we want to share the Time Wheel. This model is very beautiful and distinctive. Here you will learn how to make several different blocks and join them in a way that leaves the quilt like this, with movement.
The chosen colors are earth tones, which make the model even more elegant. Fabrics like this are on the rise lately and gain even more space in decorations. There are several different blocks that fit together and make the quilt even more special. You will notice that, despite the many colors and prints, the amount of fabric needed for each one is small.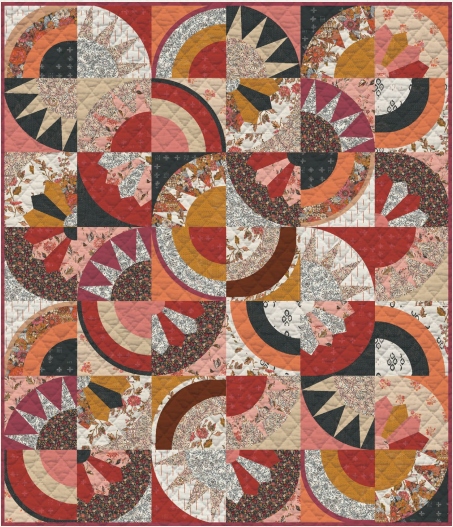 So already separate your patchwork box that I know you have out there. After all, it's impossible to sew and not have a few cuts left over in each project. As much as we take care of the clippings, so as not to waste, keep the scraps. They will be useful in this pattern as well.
In the tutorial you will find the templates of all formats. You can cut them out on a sheet and make the markings on the fabrics. Remember to use the reverse side of the print to avoid the risk of markings appearing.
A really cool idea to complete the decor is to use these blocks to make pillows. For this you will need to increase the sizes a little, but it is not difficult. You can assemble kits to sell too, they are a success. If you plan and tell us what you think, I really want to know.