Hey sweeties! How about learning a new pattern and making our little ones warm and comfortable? With the week over, this could be your project for the weekend. The Bonnie Jumper Crochet is a very pretty blouse. It has a boat necked, 3 quarter length sleeved jumper that can be made up as one block color or in a two tone design.
As for the colors you already know, it's a variety of options. In addition, you can combine two shades of the same color, it looks very beautiful too. In the pattern you will find the sizes and measurements of each one. It's always good to measure your children's clothes to compare and make a blouse that is comfortable for them. This model is so beautiful that I'm sure you'll want one for yourself.
I've already made the adaptations and I'm going to make one for myself too! This collar is very pretty, and if you want to make a long sleeve, just increase the number of rows. As for yarns, choose ones that are soft to the touch, that are comfortable. Nowadays there are many options that we find in stores. When choosing the yarn, check the crochet hook numbering indication on the packaging.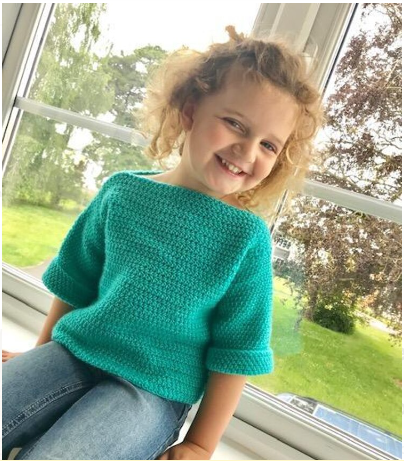 Image / Pattern / Tutorial: Love Crafts
So you are close to the indicated yield. The yield depends on the point of each one. Some have the tightest stitch, others looser and this directly interferes with the performance. But only with practice we can identify how we crochet and improve our stitches. The bonnie jumper crochet pattern is available at Love Crafts. Following the step by step, you won't have any errors. Your piece will look beautiful and your little one will love it.
With crochet we have many opportunities. We can do it to sell, to give as a gift to loved ones or for ourselves. Tell us what your idea is, are you going to gift someone? Take some time on the weekend to practice. But rest too, enjoy time close to the ones you love and recharge your energies. Next week we'll be back with many beautiful crafts to share with you. Now, let's crochet!