Hello everybody! We hope to see you all well after a peaceful weekend. We start another week today and, for that, nothing better than learning another beautiful pattern. Let's make that beautiful shoe to make our princess even more charming, the baby cuffed booties. Crochet shoes are those pieces that moms love.
Valuing the comfort of our babies, the crochet shoes are soft, malleable, warm and therefore, do not restrict the movement of the little ones. Besides, they don't pinch their little feet and they are the most beautiful thing. There are several models available and the details that we add make them even more wonderful. Baby cuffed booties are full of details and textures.
It has the pompom that you can add and the pearls too. Make sure all the details are well sewn. These details, if loosened, babies can put in their mouths. If you prefer not to add the pearls, it will look very nice too. As for the colors, choose the ones you like the most. You can make the entire shoe in a single color or use two, just like in the pattern.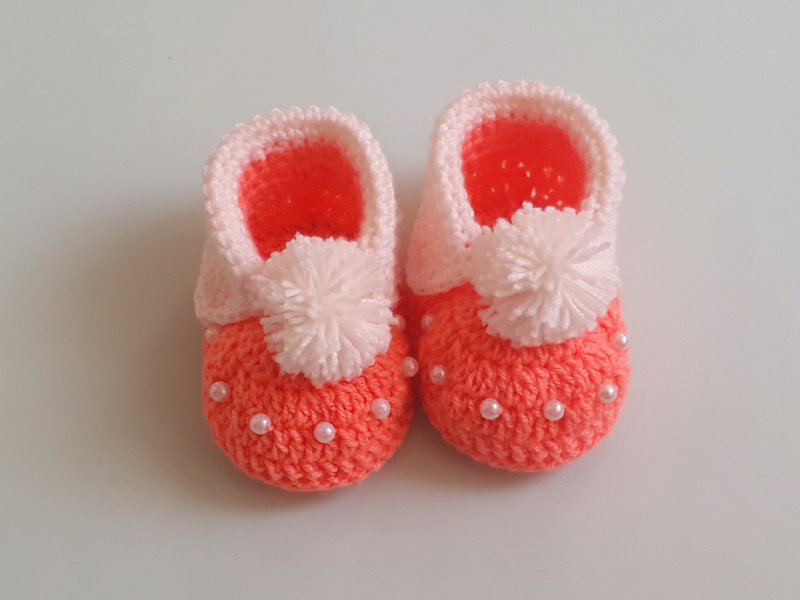 Image / Pattern / Tutorial: Crosia Free Pattern
Regardless of the color chosen, make sure the yarn is quality and does not disturb the baby. There are special children's yarns that are excellent for this type of pattern. In addition to being soft, most of them are hypoallergenic. The baby cuffed booties patern is available in Crosia Free Pattern. Following all the instructions, you will make a shoe for babies from 0-3 months.
In addition to the descriptive step by step, you can follow the video tutorial and do it together with the artisan. It can be a beautiful gift, an item to sell. The important thing is to never stop practicing. Tell us what you think here in the comments. We are very happy to see you here and having your feedback helps us to know what you like to learn the most. Crochet hooks in hands, let's crochet!