Hi my loves! We hope we all have a very amazing week. And you already know, if you're looking for new ideas to get inspired, you're in the right place.
Today's idea is to make an amazing, colorful and simple quilt to make. The Scrappy Granny Squares Quilt is beautiful and after you check out the step by step, you will want to start quilting. The quilts look amazing in the most different environments.
And you can use them both to decorate and to cover yourself on colder days. The most common, most well-known utility is in the bedroom, covering our bed and leaving the environment tidy.
Other common use is in the living room, covering the sofa or decorating an armchair. To make this quilt you don't need to have much practice in sewing, so beginners will also be able to complete this pattern with ease.
It's a block quilt, so you don't have to do it all at once. Also, the same design is repeated on the block, so once you do the first one, everything is even easier. Colors can vary too, you can make a block of each color and assemble as you find most beautiful. Or make all blocks the same color. With a little creativity, incredible new ideas will emerge, we're sure.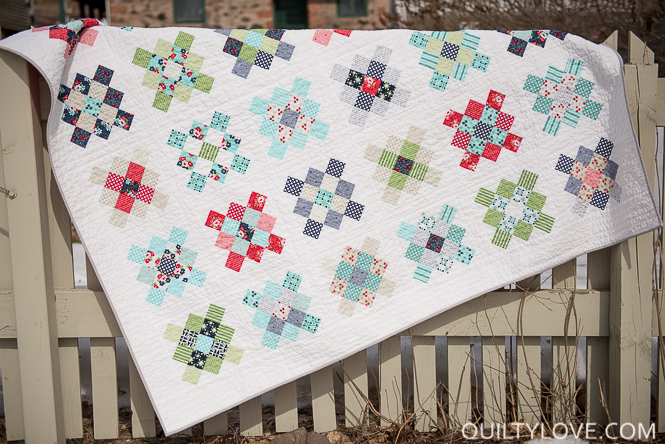 Image / Pattern / Tutorial: Quilty Love
One must be chosen for the quilt cover. In the pattern, the white color highlights the detail of each block. Let's talk a little about the quantity and materials you will need.
Each block contains:
12 – 2.5? white squares
13 assorted 2.5? squares [1 center, 4 middle color, 8 outer color]
Fabric Requirements:
A partial jelly roll
3.5 yards background (white) fabric (x30 2.5in x WOF strips and x6 4.5in x WOF strips)
Number of Blocks: 30
Quilt Dimensions: Approx: 60? x 72?
If you need a larger or smaller quilt, increase or decrease the number of blocks. Yes, it's that easy. Ready to get started? The scrappy granny squares quilt pattern is available at Quilty Love. Come learn more about this beautiful pattern with us!