Hey loves! Half another week is gone. So, are you able to keep the practice up to date? This is the best and only way to learn new patterns. If you're still looking for a new quilt pattern, stay here with us. The Rainbow Star Sunset Colorway is a new model that we want to share with you. A colorful quilt, with different prints that look beautiful together. You will see that its assembly is not difficult.
It may seem complicated, but by reading the pattern you will understand how the cuts are made and how to assemble. The quilts look amazing in the most different environments, you must have noticed that. Thinking of leaving it in the room? The quilts leave the bed very tidy, keeping the environment organized as well. Enjoy and combine with pillows that have similar colors, there's no way not to look beautiful.
Following the pattern step by step, you will make a 198.12cm square quilt. The quilt is made in blocks and this makes it easy to change the size. If you need a larger quilt, increase the number of blocks. For a smaller quilt, the same logic can be used. If you're thinking of gifting someone, quilts are an excellent option.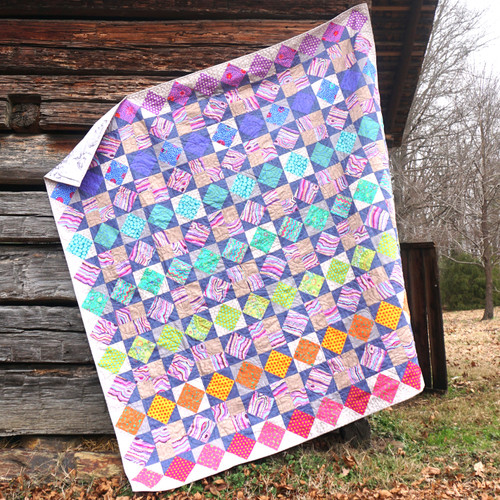 Image / Pattern / Tutorial: Free Spirit Fabrics
Also, once people get to know your work, orders will come in. The rainbow star sunset colorway pattern is available at Free Spirit Fabrics. In the instructions described there, all seam allowances are 1?4" (.64cm) and pieces are sewn right sides together. To cut, open the full width of your fabric. Do not cut the fabric folded.
The measurements, the step by step, the fabrics and all the instructions are there. We recommend that you read it first before starting to quilt. It's easier to make the pattern when we already know what the next steps will be. Only after that start making the cutouts in the fabrics. Tell us what you think here in the comments. If you have any suggestions, we also want to know.