Hi my loves! The weekend is already showing up here. We are very happy to have spent another week together. Thinking of a new project for the weekend? We have one that will surely win you over. The Checkered Path Quilt is beautiful, full of vibrant colors and will bring a lot of joy to the environment. Quilts are classic pieces, indispensable items in our daily lives.
You must have used one on colder days. Whether in the bedroom, the most common use, leaving the environment more comforting, tidy and cozy. How about combining with pillows of similar colors? It will be even more cozy and inviting. You can put it on the sofa. Some people take the opportunity to cover any stain or tear that they may have in the fabric.
Leaving it on the armchair, in a corner of the room, also draws a lot of attention and is charming. You know those decorative baskets we leave in the corner of the room? You can leave it there and whenever you need it, just pull and snuggle. There's no one who doesn't like to have a comfortable quilt while reading a book, drinking coffee or watching a movie. Let's talk about some tips that can help us quilt.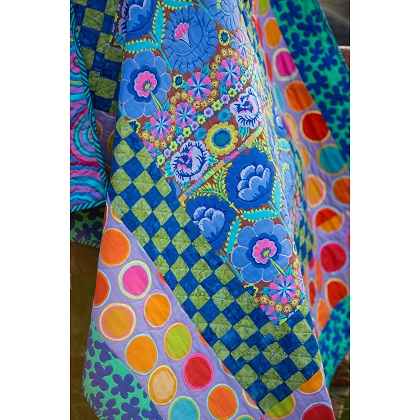 Image / Pattern / Tutorial: Free Spirit Fabrics
Very dark colored fabrics tend to bleed a little. You can wash them before you start cutting and get rid of the excess. Once dry, just iron and start marking. If you are worried about quilt markers not washing out, fine line chalk markers are a great option. Especially if you want to do more detailed, finer designs. Scissors aren't always the best tool for cutting fabric.
Get a rotary cutter to make trimming quilts faster. Carefully reading the pattern instructions from beginning to end before starting to cut or sew can prevent a lot of problems. You can check out the checkered path quilt pattern at Free Spirit Fabrics. There you will find all the information to guide you through the entire project. But you know that if you have any questions, we are here to help you too. May we have a beautiful weekend. Let's quilt!