Hey loves! How are you? We hope to find you all well, full of desire to learn new things. We spent this time without appearing, but that didn't stop us from separating new patterns. Shall we start sewing a little? Country Windmills is an amazing pattern that comes complete with decor. In addition to the quilt, you will learn to make pillows to match. And let's face it, nothing more cozy than a well-groomed room.
Quilts are amazing and even the most common way to use them is in the bedroom, they look amazing in other environments too. There is no one in the living room who doesn't like to pull up a quilt and snuggle up while reading, having a coffee, watching a movie. Now let's talk a little about materials. Fabric, backing fabric, batting, scissors, sewing machine, threads and needles.
Choose quality materials to add even more value to your work and have a beautiful quilt for longer. You can take some precautions before starting your project. If you choose dark colored fabrics, you can wash them before you start cutting. This way the excess ink comes out and there is no risk of staining the lighter patches after sewing. After washing, iron the fabric before starting to make the markings.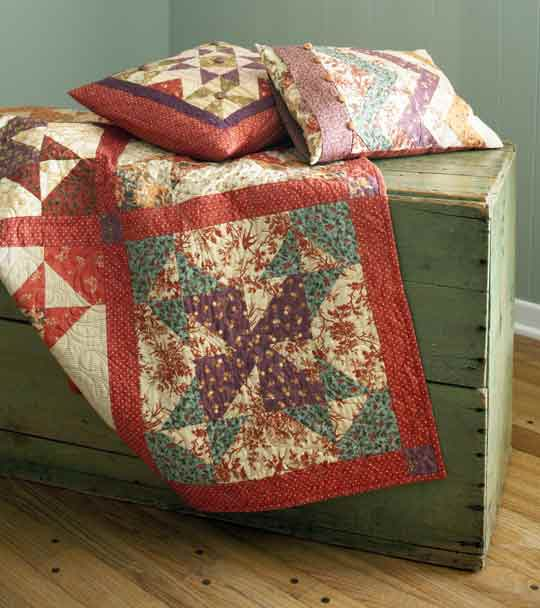 Image / Pattern / Tutorial: All People Quilt
A straight, smooth fabric makes things a lot easier, you'll see. Always make the markings on the reverse side of the fabric. As much as these pens have washable ink, if any stain remains, it won't show up on your quilt. Some patches are small and don't repeat themselves in the quilt, so you can use scraps left over from other projects. As for colors, use and abuse your creativity. See colors that are present in the environment to match.
This quilt is assembled by blocks, which are eventually sewn together. This model is the easiest to change the size if necessary. You can increase the quilt edge, increase the number of blocks or decrease it. The Country Windmills pattern is available at All People Quilt. There you have all the information, but if you still have any doubts, you know you can count on us. Here in the comments you can put your opinion, a suggestion, tell your experience or just talk to us. We were very happy to have this interaction. Let's quilt!