Hey my loves! What a pleasure to meet you here once again. Our week has been very busy, full of new patterns. And we separate some more to share with you. The Chicago Geese Quilt Block is simple but very beautiful. With this pattern you can assemble different pieces. And the most amazing thing is that, by changing the shape of the fitting, a new pattern is created. If you, like us, like to sew, stay here with us to learn.
When we are going to assemble a quilt block, we usually already think about the final piece. If we are going to make a table runner, table topper, a quilt, padded cover. There are many options that the block quilt allows us to assemble. It's good to have an idea of ??the size we want for the final piece, to buy fabric in the right quantity. As we can make different combinations, if something is missing you can also exchange it for another print.
If you prefer to use plain fabrics, you can too. The important thing is to choose different colors, which highlight the pattern you are putting together. When you start cutting, see how many blocks you will need and make the cuts for all of them. This will greatly enhance your service. To assemble them all as a production line you need a little more practice so you don't get lost.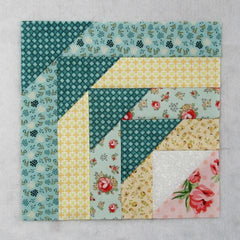 Image / Pattern / Tutorial: Fabrics 406
If this still isn't your case, build one by one. It may take a little longer, but the result will be just as beautiful and charming. If you don't already have a rotary cutter, consider investing in this material. You will see how it is faster and leaves the cut cleaner. The pattern we separated for you is available at Fabrics 406.
There you will find the materials, fabric suggestions, cutting and sewing instructions to make the chicago gesse quilt block. Some diagrams also show you how the quilts look different depending on how you place the blocks. Pretty cool huh? Tell us what you think here in the comments. We are very happy to bring you new ideas. Time to sort the materials and start quilting!