Hello everybody! What a pleasure to meet you here. How is everything there?
I hope to find you all well, in good health, willing to make beautiful handicrafts and share your experiences with us. I'm always very happy when I can bring new patterns and share them with you. The Painted Flower Hexagon was one that I couldn't not bring here. 
After I did it and saw all the beauty of this model up close, I either shared it with you or shared it, simple as that. And from the pictures you can see why. As the name says, the flowers really look like they were painted and the outline made with a darker color makes all the difference.
This is that free pattern, where you make the hexagon, but it doesn't finish a piece. Therefore, with a little creativity you can make table runners, blankets, rugs, bags. 
Unlike the flowers we are used to, this one comes without any texture, it has no relief. That's why it's perfect for making coasters or placemats too. Do you know granny squares? This model has the same essence. Different formats yes, but you also need to unite several to have a piece. When choosing colors, think about the decor, where you plan to place it, if you have a specific date in mind.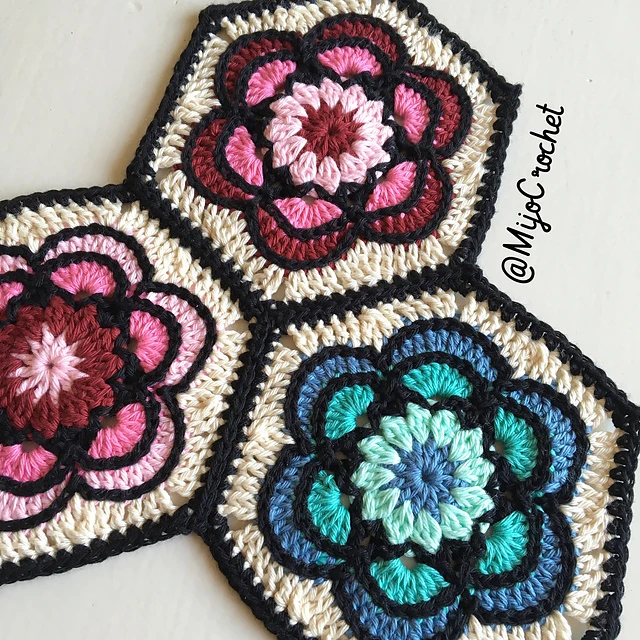 Image / Pattern / Tutorial: Mijo Crochet
Remember that the colors cannot be too dark for the outline to stand out. It is true that you can do the opposite, the flower is very dark and the outline is lighter, but the effect will not be the same. With the dark outline, the 3D effect is much more evident. You know you can choose different yarns. I always recommend trying to keep the same thickness in all your picks. If they are too different, you will have a "height" difference in the hexagon. 
Does it look nice? Yes, but I prefer flat. Nothing you can't test too and see what you like best. Use that yarn left over from another project to test. Ready to start? The pattern of the painted flower hexagon is available in Mijo Crochet. See the photos, understand the graphic and then just crochet. And you know you can tell us if there's any doubt. We are here to help and encourage each other. Come on, let's crochet!