Crochet Baby Booties, today in this crochet article we are going to talk about the look of babies' little feet. We are talking about a part of the body that deserves a lot of attention. Babies' feet are so beautiful! And with this Amore Crochet Baby Booties by Hut, our babies will be more beautiful, really a beautiful piece of crochet. Crochet is already made with a lot of love. And for babies, with super love, it is great to make crochet baby booties. Little babies are very cute, and deserve all the attention.
The Amore Crochet Baby Booties by Hut, is a beautiful piece to complete your baby's look. And above all, to keep your baby's feet warm this coming winter. A creative piece that is very easy to make. Moreover, using your creativity you can add some accessories to make it even more beautiful and charming.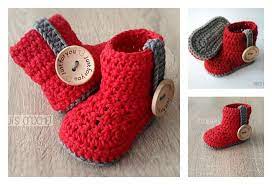 Crochet Baby Booties
Whenever we talk about babies, care must be doubled. Yes, we must always be attentive, because our little ones are still very fragile. That is why everything we do has to be as comfortable as possible for our babies. It is fundamental to be careful with crochet pieces. One such care is to choose a good thread, the anti-allergic ones. With this care, just make a beautiful crochet piece and enjoy our babies.
Crochet is widely used to create clothes and accessories for babies. For, besides a beautiful end result, the pieces provide comfort for the little ones, which is great.
With the arrival of the cold season, shoes will be worn a lot. Therefore, because they are soft and comfortable, they certainly won't bother the baby. True, when we plan to make a piece like this crochet boot, it becomes easier. This way we can have the expected result. With the pattern in hand and also your needle, all you have to do is choose the color of this beautiful boot. The color combination of the baby's look helps a lot in the harmony of the clothes. Therefore, we suggest that you choose the color of the thread to match the colors of their clothes. In this way, you will be able to enjoy this boot more, looking nice.
First of all, with the tutorial provided in this post, paying attention you can do the work very well. Put together all the material described in the tutorial, but remember that the color is only a suggestion. Therefore, use your favorite color. Do it very carefully, the secret to a good result is pasciência. It is always very important for us to get the best free patterns. And also when we get the video teaching how to make the piece. This way with the help of the patterns and tutorials it is much easier for you to make your piece, this is very important for us.
Materials:
3,5 mm (E) hook;
yarn needle;
stitch markers;
Schachenmayr Sun City wool for 3,5 – 4,5 mm hook (G: 18S&25R in 4 inches/10 cm) – I used grey, CottonFun
Schulgarn wool for 3 – 4 mm hook (G: 22S&29R in 4 inches/10 cm) – I used red;
two buttons.
Ch – chain;
Ss – slip stitch;
Sc – single crochet;
Sc2tog – single crochet two together;
Hdc – half double crochet;
Dc – double crochet;
Dc2tog – double crochet two together.
Access the pattern here: by – Hut's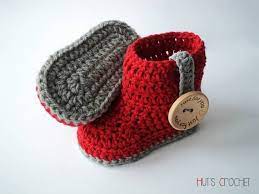 Crochet Baby Booties
As for the embellishments, like in this case the buttons. They are your choice, try to put ones that match your chosen colors. Once you finish a piece, especially for a baby. It becomes very enjoyable, in fact, it is a very rewarding job. This work can be a selling product, so you will have more income at the end of the month, which is great. Crochet brings us numerous advantages. And I consider one of the main ones that this amazing art provides us, it brings us a lot of peace, and no stress, which is very good in our day to day.
Look for information with future moms about colors, it will certainly be much easier to offer the piece with the desired color. We always try to bring you the best patterns. There are many interesting crochet pieces!