Hey sweeties! Ready to start another week with lots of art? We are here to bring you new ideas, new models that can serve as inspiration for you to create and decorate new environments. Holidays With Our Homies is a very different model, a model with strong colors and a lot of presence. In the room in which you think of decorating, it is very likely that it will be the piece that will draw attention.
Quilting for beginners is the beginning of a great art in the textile field, after all, with this technique you will be able to decorate and quilt your patchwork works with a lot of creativity and fun. There are a thousand ways to quilting, so the tips here are for you to start loosening up and extracting everything you need without getting frustrated, because with practice you will advance little by little. Quilt making is also a way of creating pieces with special designs and textures, using molds and inspiring references.
Start with the initial step-by-step and invest in new handicrafts to perfect your textile work, with variations and details to be added to each day by you. Quilting is a layer of sewing, in which you need to sandwich pieces of fabric together to create a multilayer quilted product. It is possible to do different types of quilting, especially in patchwork work. Some of these types are free quilting, straight quilting, hand quilting, feather quilting, among others. Before knowing the difference between quilt and quilting, it is necessary to recognize that both techniques correspond to the same process of creating multilayer products.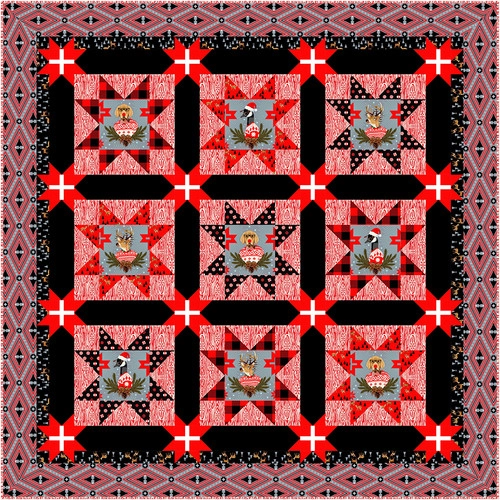 Image / Pattern / Tutorial: Free Spirit Fabrics
After all, quilt and quilting make a sandwich with different fabrics, forming layers. However, this is what defines the quilt, since there is a quilt without quilting. The quilting will be the detail that makes all the difference in the quilt, as it is an elaborate seam that has different ways of being done. The quilt can be made with knots distributed throughout the piece, for example, without the need for a seam itself.
So, it is worth saying that in practice all quilting is a quilt, but the opposite does not always happen. Did you know about these technicalities? These are details that we often don't learn, we go straight through all of this and start sewing. It is very interesting to know the technique well before putting anything into practice, it helps us a lot. The complete pattern from Holidays With Our Homies is available from Free Spirit Fabrics. It has all the tips, measures, indications and step by step. Come tell us what you think of this model. Did you like the colors, the prints? Come quilt with us!