Crochet Sunny Spread Blanket, Good morning dear crochet girls, today we have this amazing pattern. This beautiful blanket.
We know that the art of crochet is an ancient activity that has existed for thousands of years. His work has its origins in prehistory and its development took place in the 16th century. In many countries it is a very representative practice of popular culture. Crochet is a very common type of craft in many parts of the world. It's a very special, very familiar technique that was once taught from mothers to daughters. And so it was passed down from generation to generation, becoming more and more popular.
Like this practice of teaching ancient crochet, sewing and embroidery techniques made by the matriarchs of the families. It became more and more unusual. With the evolution of technology, it is a fact that today not many young people know how to crochet, as in the past. Today we see crafts as much more as a "grandparent" activity, but it wasn't always like that. And in the past it had its peak days. But I'm still very happy because we saw thousands of young people making and creating beautiful crochet. In fact, I can say that age is a sign of wisdom and experience. Because I believe crochet rejuvenates, so the older we get, we're all younger, right girls?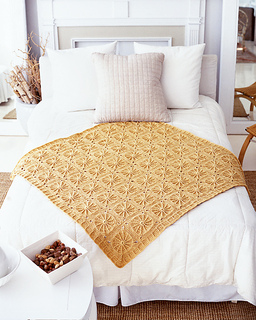 Crochet Sunny Spread Blanket
MATERIALS
Red Heart® Super Saver® (7 oz/198 g; 364 yds/333 m)
Jade (3862) 9 balls or 2104 yds/1924 m
Size U.S. I/9 (5.5 mm) crochet hook or size needed to obtain gauge.
Yarn needle.
INSTRUCTIONS
Notes:
• Ch 3 at beg of rnd counts as dc
throughout.
• Ch 4 at beg of 6th rnd
counts as tr.
• Join all rnds with sl st to top
of first st.
• Dcfp are worked around dcfp
from previous rnd to create
raised, spoke-like shape, and
count as an inc as it is worked
around previously worked sts.
MOTIF (make 49)
Ch 4. Join with sl st to first ch to
form ring. See diagram on page 3.
1st rnd: (RS). Ch 3. 11 dc in ring.
Join. 12 dc.
2nd rnd: Ch 3. Dcfp around first
dc. *1 dc in next dc. Dcfp around
same st as last dc. Rep from *
around. Join. 24 sts
It is correct to say that: Crochet is a great legacy left by our ancestors. We have to be proud of it and we know it will never go away. We can have the biggest evolution in history, that even so we will always have crochet somewhere in the world. I have no doubt that we will have the dear crochet girls weaving their crochet piece. Your creativity and / or need makes you act. And with so many interesting works and patterns, it is natural that we are always inspired and motivated to make every crochet job.
Crochet work and creations is a spontaneous production that stems from the sensitivity and ingenuity of crochet. What helps a lot is the experience along with the wisdom gained over the years. That combined, gives you an incredible capacity for execution and perfection in the works. We can say this in all areas, practice leads us to evolution.
Free Pattern Available: Crochet Sunny Spread Blanket
Crochet Sunny Spread Blanket – Photos Yarnspirations
Dear Crochetmakers have a fertile imagination to create. Use the yarn to make something that gives you pleasure, beauty and art. Making crafts a source of life. That's how people love this art and bring crochet to their daily lives. So I also believe that many people have crochet as their main activity.
I believe it is a perfect union to work with what we like. As in all arts, in crochet we have several pieces that represent the art and that are sought after and admired. I believe crochet is also represented by you. Dear Crocheteiras, heroines with representations that express and enrich the culture of this art. You are great artists and stand out in skill for your talent and creativity.