Crochet baby blanket, good morning dear crochet girls, here is a beautiful blanket. A beautiful and very original pattern, for those who like exclusivity, it is in fact a unique piece. At first glance, the point seems complicated, but you'll see when you start, it's easier than you imagined. A pattern like this would definitely be successful in the past for its shape and designs. This Crochet Baby Blanket pattern reminds us of the history of handicraft. Craftsmanship? Opening a space for history, handicraft and consequently crochet, below is a little of this history.
Crafts/Crochet History
Crafts: is known to be a family tradition, like crochet, an extremely familiar art with values ​​passed down from generation to generation. Crafts are rich in family values ​​that add a lot to the culture of peoples, passed on from person to person over time, this is very important and very precious and must be preserved.
The essence of the art of crochet weaving is manual work, as well as any type of craft, in which the mechanization of industry, artisans are identified as those who produce objects belonging to the so-called popular culture. History has it that the first handcrafted items made by man were identified in the Neolithic period (6,000 BC), when man learned to polish stone, make pottery as a tool for storing and cooking food, and discovered the technique of weaving animal and vegetable fibers.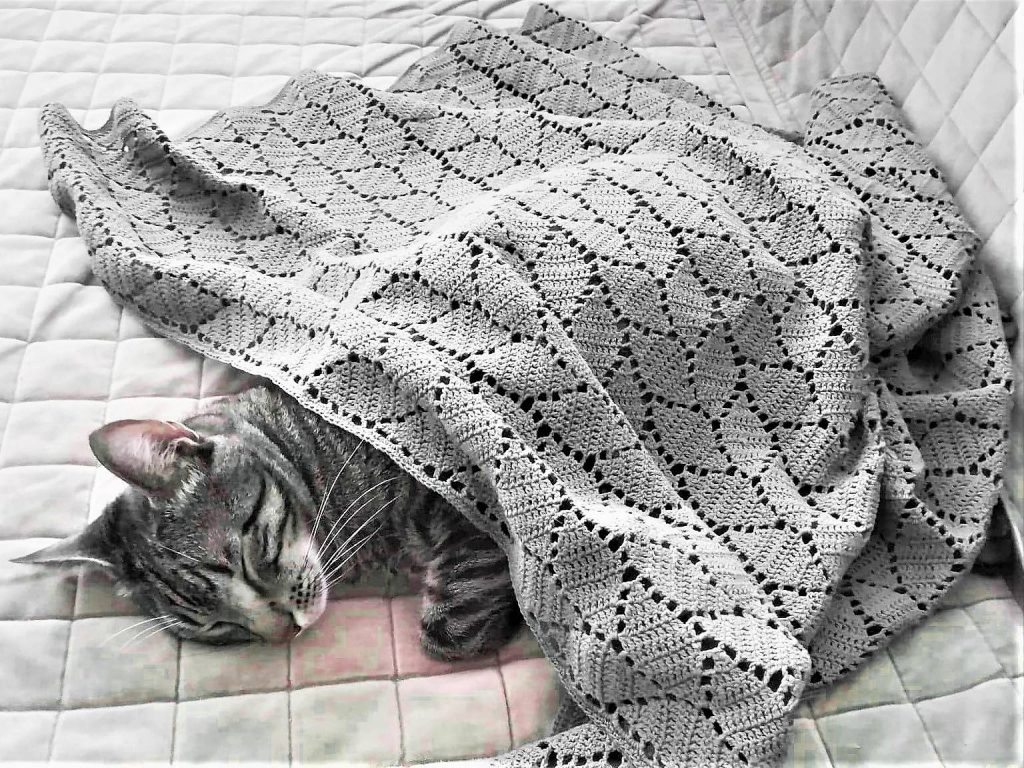 Amazing and interesting, to imagine the first handicrafts, as well as the first crochet pieces, the materials and tools used were of rustic and primitive forms. Bringing it to the present day, we see how much has changed, and for the better. I start with the tools, our needles as they got better. Today we find several sizes and types of materials, not to mention the lines that we can choose from an infinite variety of materials. Not counting the colors and their thickness, everything according to each project and the pieces we choose to weave.
Not to mention the huge collection of patterns and graphics that exist across the planet Earth, which we can share through the internet, uniting peoples and cultures.
Below are abbreviations and the pattern of this beautiful Crochet Baby Blanket:
Abbreviations:
ch= chain;
sc= single crochet;
dc= double crochet;
dc2tog= double crochet 2 together;
dc 3 tog = double crochet 3 together
Free Pattern/Photos/Available: Turquoise with Vanilla
The pattern is created, with all the necessary instructions, making it easy to put into practice. The purpose of the pattern is that the other works are the same as the original design.
Today, with the help of the internet, things have become easier, both in terms of pattern and in learning new stitches, all with good materials and excellent needles, now we are closer to computers, tablets and cell phones. smart phones, distant in territories but very close through the internet, so that we can learn and the best also teach, share our work, all this helps us a lot these days.