Hello everybody! It's been a few days since we made the last post here. We already missed sharing new patterns with you. We hope you took this time to practice and catch up on crafts. Today we are going to learn a wonderful pattern, the Clutter Catcher Basket. These baskets make all the difference in our daily lives. It's normal to have something out of place, especially in the children's room.
That's why these baskets are perfect. Lots of toys fit, they look beautiful in the environment and it's still easy to teach children where to store things. You can make one of these to put in the living room, leave the quilt folded on top and decorate the way you prefer. There are many options and it is always useful, once you make one you will understand how baskets help us to keep things in order.
You can make any colors you like. Match the children's room decor, match the room decor. There are many options and I'm sure that, with a little creativity, you will make beautiful baskets. These are pieces that sell very quickly because they are so useful. In addition, you can gift your crafts to loved ones.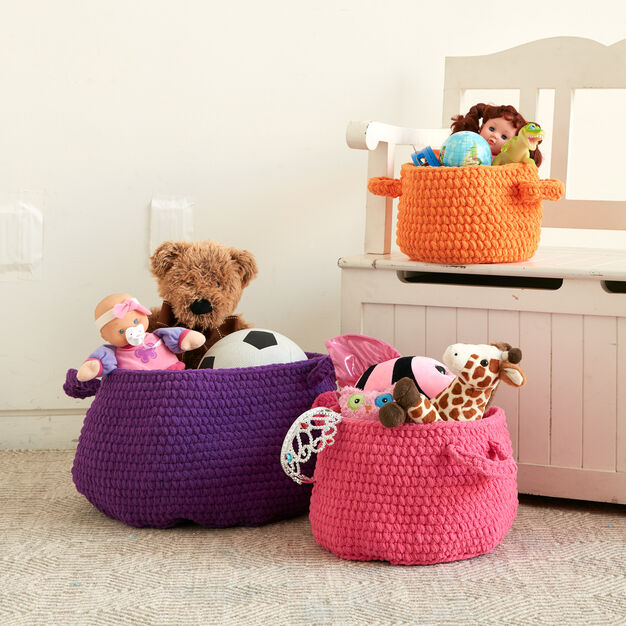 Image / Pattern / Tutorial: Yarnspirations
So, you publicize your work and show all your affection. In the pattern, you will find three different sizes of baskets: small (approx 10″ [25.5 cm] in diameter – 6″ [15 cm] high); medium (approx 12″ [30.5 cm] in diameter – 7″ [18 cm] high); large: (approx 14″ [35.5 cm] in diameter – 8″ [20.5 cm] high). The yarn suggestion, step by step of all rounds and abbreviations are available in Yarnspirations.
The instructions for the clutter catcher basket are written for the small size, but the amount of stitches for each of the sizes is available there as well. We hope you enjoyed it and that you take the opportunity to make many baskets. Whether to decorate, to store toys, we are sure it will look very beautiful. Grab your crochet hook and let's crochet!