Hello guys, how are you? I hope to find everyone well, excited to start another week with lots of crafts. As on other days, we were very happy and grateful to have your company.
Know that everything our team brings here is thinking about facilitating and motivating you to keep creating. I hope you feel it on the other side of the screen.
Crochet patterns are always a hit here, even more so when we share beautiful and simple-to-make clothes. Whether for hot days or cold days, we always have a crochet piece that fits perfectly into our daily lives. And if you, like us, love a dress, stay with us until the end.
The dresses are simple and easy to wear. They range from simple models to the most elegant ones. With them you will be ready for all occasions.
Thinking about it, we brought a selection of several models, going through all styles.
The Triple Threat Dress Pattern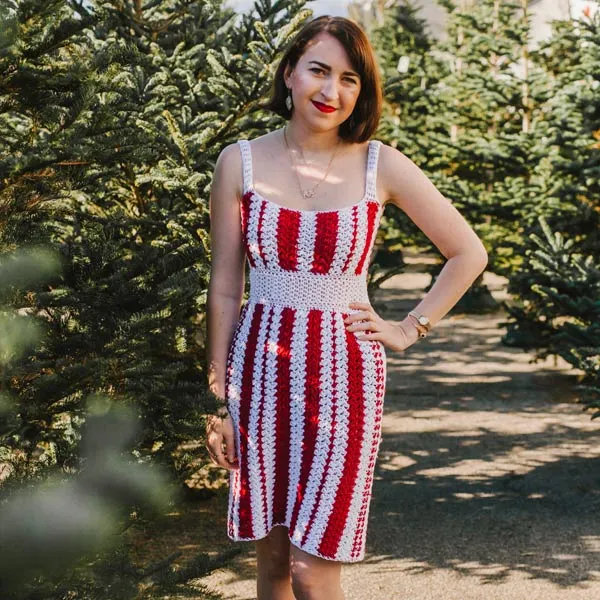 If you are looking for a dress that is light, fresh and elegant at the same time, the triple threat dress is the perfect model.
With vertical lines that make the silhouette thinner and a belt that marks the waist, this model can be worn with flats, with sneakers and with a thin heel.
Here the coolest thing is to maintain the contrast between the colors. So you have this beautiful effect and a very wonderful dress. The pattern is available from the Hook Nook Life.
Off The Shoulder Dress Pattern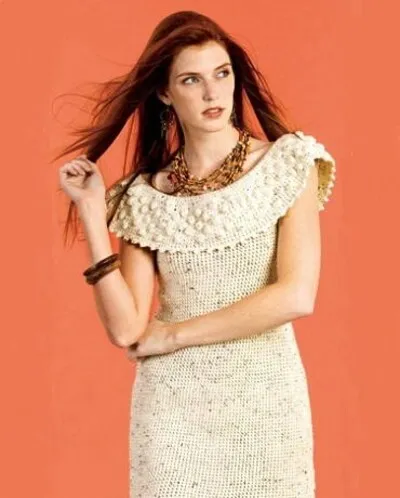 The off-the-shoulder. It is a beautiful trend that is here to stay. Do you also like this type of model? It's a style that really values our cleavage, makes our collarbones stand out and combines even more with new accessories.
They're hot in all stores, but you don't have to buy one, you can crochet yours today. And even easier, the front and back are made the same way. Come check out the pattern in All Free Crochet.
Mid-Summer Night Tunic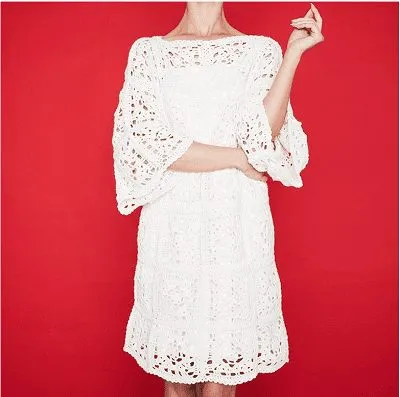 With bell sleeves, this dress model is very charming. In addition to being elegant and sophisticated, here we have a tunic that can be worn from an afternoon at the beach to a more important dinner.
Combine with accessories that contrast with the color of the crochet and have a perfect look. Better than that, made by you, the size you want, the colors you want. Perfect, isn't it? Pattern available from Love Crafts.
Audrey Dress Pattern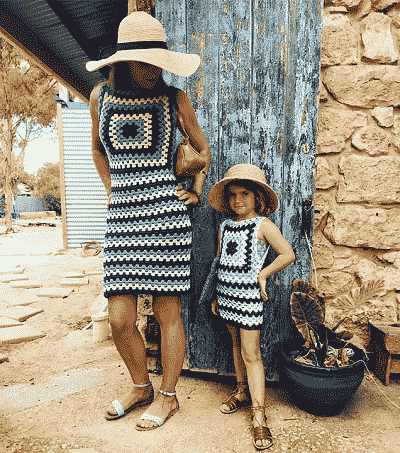 And who said that granny square can't also be a beautiful dress? In this model you see the versatility of this pattern. A simple but very pretty dress. You can make a smaller size and match your little one.
Complementing the look with sunglasses, a hat and flip flops, you already have the perfect look for summer. Pattern from Ravelry.
Granny Square Tile Dress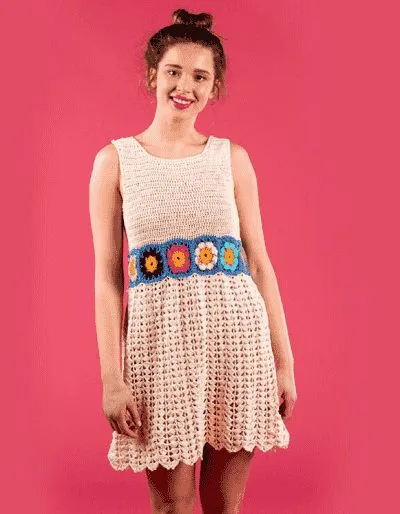 A colorful detail, a belt around the waist of the dress make all the difference. And this time, we're not talking about an accessory.
The granny squares detail comes to make the dress even more beautiful. This model is short and very light to use.
The top part, the bust is made with a tighter stitch and the skirt is more fluid using a different stitch. But all this done in crochet. A very fun model that you will love. Pattern from Love Crafts.
Cache Coeur Dress
The Cache Coeur Dress is a very light model. A loose, flowing and fresh dress, perfect for summer afternoons.
If you don't like those models that are glued to the body, this pattern is for you. It looks beautiful in pastel colors, just like the photo, but you can also try other tones.
A gorgeous neckline and open back is the wow factor you're looking for. Pattern available in Knitting with Chopsticks.
The Everyday Maxi Dress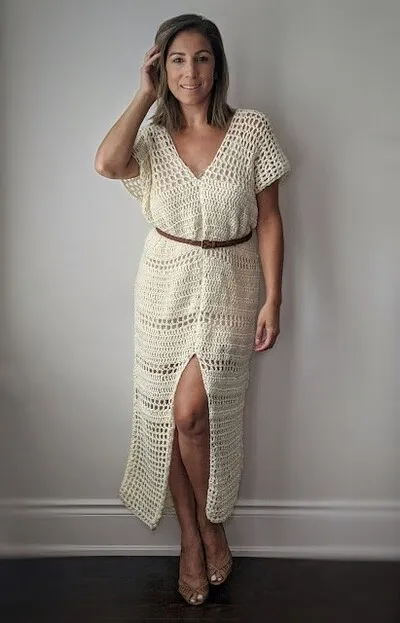 Long dresses can also be crocheted and how amazing they look. Here we have a very chic model, boho style. With a simple and thin belt you can waist your look and give a different touch to your model.
The slit gives even more freshness to this dress and you can change its height according to your taste. Most patterns have several sizes available.
Measure to make sure it's perfect for you. Pattern by OTH Crochet Nook.
Yellow Crochet Sundress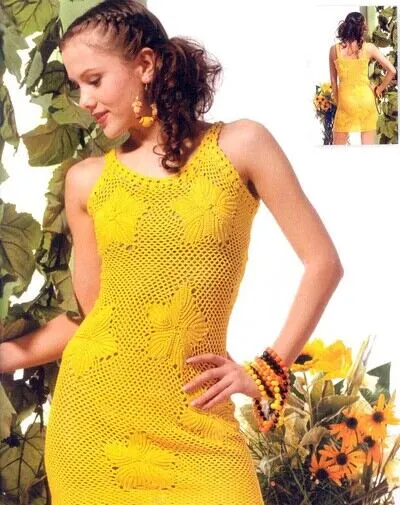 Planning to spend quiet days at the beach, looking for the best scenery and relaxing moments, you need a stunning look like the sundress pattern. Look at that incredible dress and this shade of yellow only brightens your look even more.
A perfect and very instagrammable look, if that's what you're looking for. A pattern with subtle details that make all the difference in the end.
Its length is perfect for all-day wear. Pattern available at My Crochet Pattern.
The Breezy Beach Dress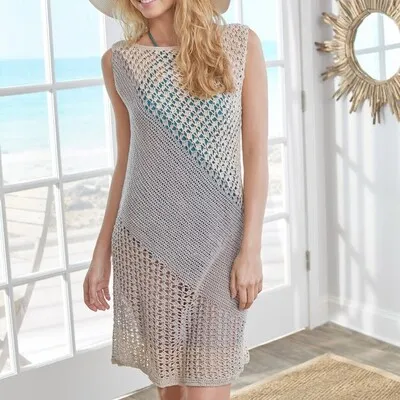 Crochet also goes well with the beach atmosphere and if you want a dress for these occasions, the breezy beach dress is perfect. Made entirely with simple stitches, this model is for everyone, beginners to experts.
Just read the pattern carefully and you will finish this model quickly. It's a very loose model with open stitches, perfect for a sunny day in the sand.
With a hat, sunglasses and flip flops, you're ready to spend the day having fun. Pattern from Yarnspirations.
The Parisian Dress
Try this dress if you are looking for a delicate and airy model. Here we have a dress with short sleeves, a delicate neckline and a lace skirt. All in crochet and with a beautiful color, this model can also be used on all occasions.
Use and abuse accessories to make your look more elegant or casual. The high point is this skirt, the stitch used resembles delicate lace, it looks incredible. Pattern by Deser Blossom Crafts.
Cactus Dress Pattern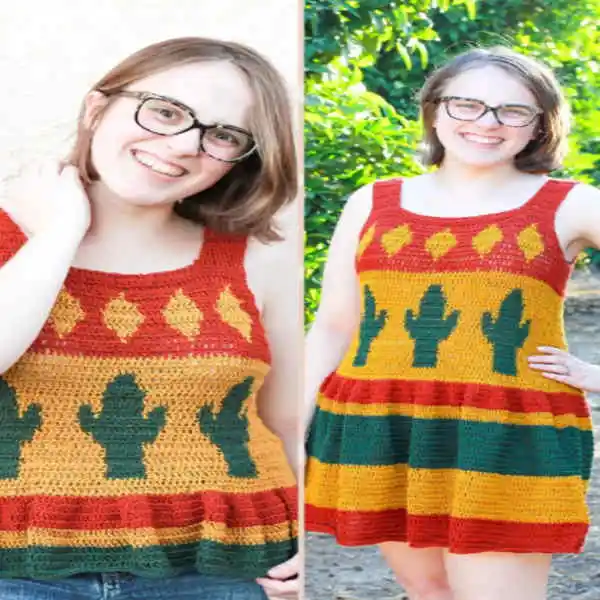 If you like a more colorful dress with designs, try crocheting the cactus dress. Mixing stripes with designs, this dress has a fun pattern. Changing the length, you can choose to make a blouse. The pattern has these tips.
As we are mixing several colors, you can use yarn from other projects for these details as well. Come check out the pattern that is available at E' Claire Makery.
Granny Square Dress Pattern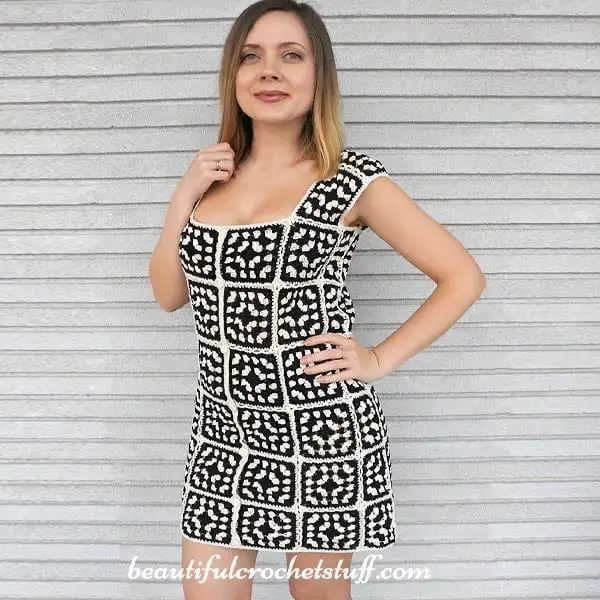 The granny square dress is as easy as making those squares. In this model you do not need to make any changes to suit them to the dress. You just need to make the right amount of squares, increasing the amount for a longer or looser dress.
If you are looking for a more waisted dress, you will need accessories to mark this region. But it's not necessary, the look is perfect without them too. Pattern of Beautiful Crochet Stuff.
V-Neck Dress Pattern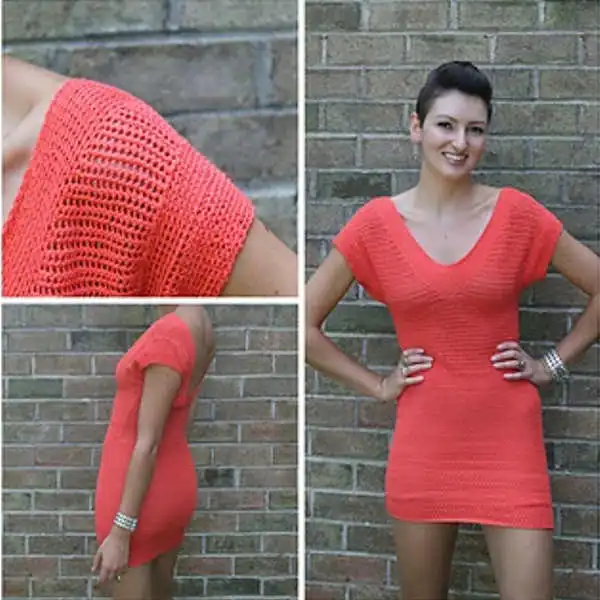 This dress model is made using a single crochet stitch, do you believe it? Working in rounds you have this beautiful result. In the pattern you will have some sizes available. See the measurements and, if necessary, adapt it to what you need. Vibrant colors look great for summer wear.
The V neckline makes all the difference. It enhances the lap and you can put on some accessories to make everything even more harmonious. Pattern available on Ravelry.
Lace Dress Pattern in Crochet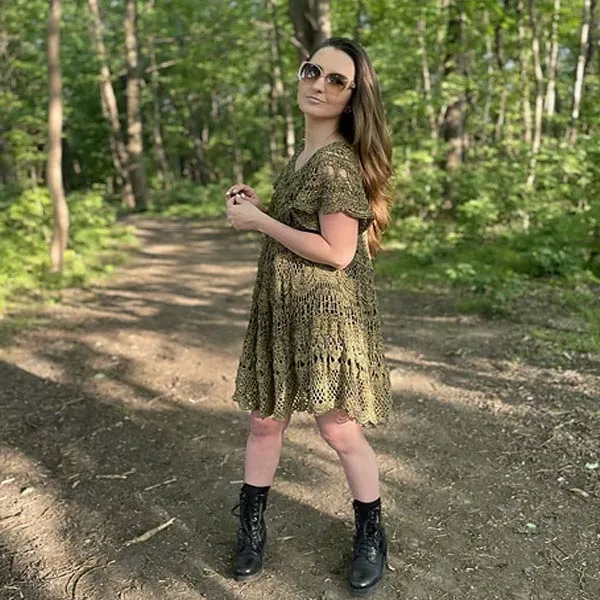 This dress is amazing and has a great fit. Crocheted in a very delicate way, this model seems to be made of lace. Because it is a more delicate model, using different stitches, it is not a recommended model for beginners. The instructions are written and in the form of pictures.
Give them a chance, read them and understand each round before you start crocheting. Choose a beautiful color, quality yarn and pattern, available on Ravelry.
Sundress Crochet Pattern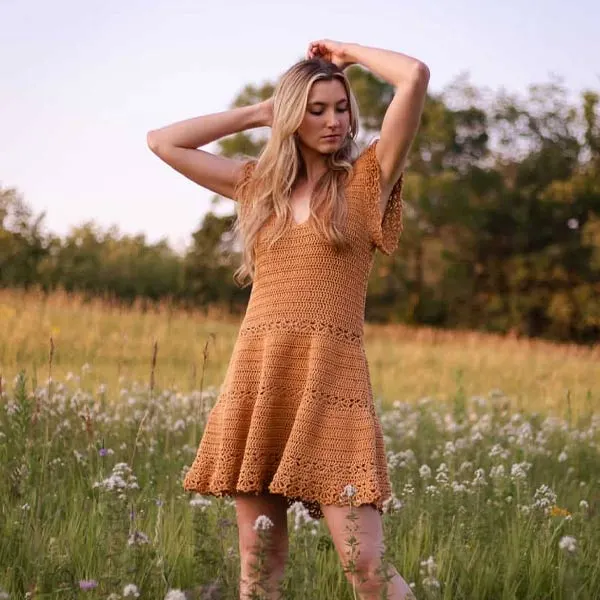 In this dress we have a beautiful mix of stitches that result in this incredible model. The skirt is worked in rounds while The bodice is worked flat.
I'm sure you'll have fun doing it. With a delicate neckline and short sleeves, freshness is guaranteed on the hottest days.
Even more so if you choose a finer yarn. As for colors, earthy tones are on the rise and look amazing on all skin tones. Pattern by Originally Lovely.