African Flower Square, crochet blanket with african flower square, an amazing crochet square pattern. Check out our amazing crochet blanket with african flower squares, they are beautiful and inspiring.
The African flower crochet blanket is one of the most beautiful crochet flowers, when we do we can imagine how beautiful this blanket will be, crochet is a delicious craft and with skill you can make quick pieces, in addition to being a low cost art, and a blanket like this will change the look of the environment. With the immense variety of colors, prints and fabrics with which blankets are made, it is possible to create endless possibilities for decoration and change it whenever you want.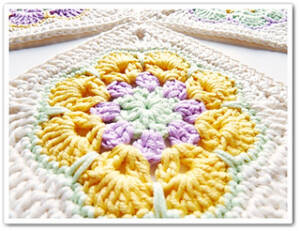 In addition, blankets help a lot on cold days, when we really want to warm up while relaxing on the couch or bed. In the end, you realize that you bought or made a two in one: that is, the blankets end up being a decorative and functional object.
But among so much variety, how to choose the right blanket for your sofa and your living room or bedroom? Here is a genuine model that is the "African flower crochet blanket". Despite being a rare piece, this blanket makes all the difference in the decoration, your environment will be beautiful, there is no mistake, the choice is right. So we have gathered in this post some tips that will help you when making your piece, to decorate the environment of your home with a blanket.
As you can use and decorate with crochet blanket with African flower square, match the colors of the blanket. The color of the blanket must be in harmony with the rest of the environment, especially with the sofa or place where it will be used. To get the color choice right, bet on tone-on-tone combinations, for example, dark blue sofa with lighter blue blanket.
Another good form of combination is by contrast, which may be due to the idea of ​​light and dark, as well as the use of complementary colors, that is, those that are in opposite positions in the chromatic circle. In this case, some suggestions are the use of yellow with blue, green with pink, blue with orange, purple with yellow or red with green, because we can see that the colors are different, use your creativity and count on your good taste. One more tip: you can also combine the colors of the blanket with those of the pillows, including the design of African flowers, perfect match.
For your crochet blanket with African flowers to have a perfect result, you need to choose the rest of the thread that is very personal and has to do directly with the taste of each one. But it is important to remember that the main function of a blanket is to keep us warm in the cold, so it must be pleasant to the touch.
Pattern:
1st Round: start with a magic ring and work *2dc, ch-1* eight times inside the ring (8 dc-2 groups, 16 dc's). (Tip: Alternatively you can work dc-2-togs instead of the dc-2 groups)
2nd Round: with a new color work *3dc, ch-1* in each ch1-space around (8×3 dc's)
3rd Round: with a new color work *2dc, ch-2, 2dc* in every ch1-space (8 shells)….
Access the pattern here: African Flower Square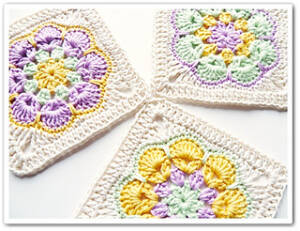 Those who like a softer touch, for example, should opt for cotton or wool blankets.
In general, the blankets mark the end of the furniture, being widely used folded in the base or in the part of the back. But avoid using it stretched over the entire seat.
An important thing is also that the blanket must follow, a priori, Ex :. the size of the sofa, ie small sofa with small blanket and large sofa with large blanket. The advantage of large blankets is that they can be folded until they reach the ideal size, but only in cases of lighter blankets, as the thicker blankets become heavier and end up becoming much more bulky when folded.
Now comes the best part, you can save by learning and making this beautiful "Crochet Blanket with African Flower Square", Take advantage of the free pattern we got for you, and then make this beautiful blanket for you. We will always be here to bring beautiful patterns to help you, we appreciate your visit to the site and see you next time.