Tree of Life Afghan, with a beautiful stitch in incredible colors that has a very charming and perfect result to leave the environment with a totally new face.
With a beautiful color, it is a perfect piece to decorate the environment for having neutral and charming colors. Comfortable and beautiful is very easy to make.
Crochet is very useful for decorative pieces that complete the look of the house elegantly as well as this beautiful Tree of Life Afghan.
This beautiful blanket can be made in many different colors and has a beautiful result. The blanket is often used in homes today to heat up at night and also to decorate the environment. A job that needs a little more attention, but it has a result that is totally worth it.
Mixing colors can often be fun and interesting, leaving your room cheerful and cozy and with an incredibly new feel.
This blanket has a classic and stylish design that you are sure to love. Quilts are a very stylish and creative way to decorate any style.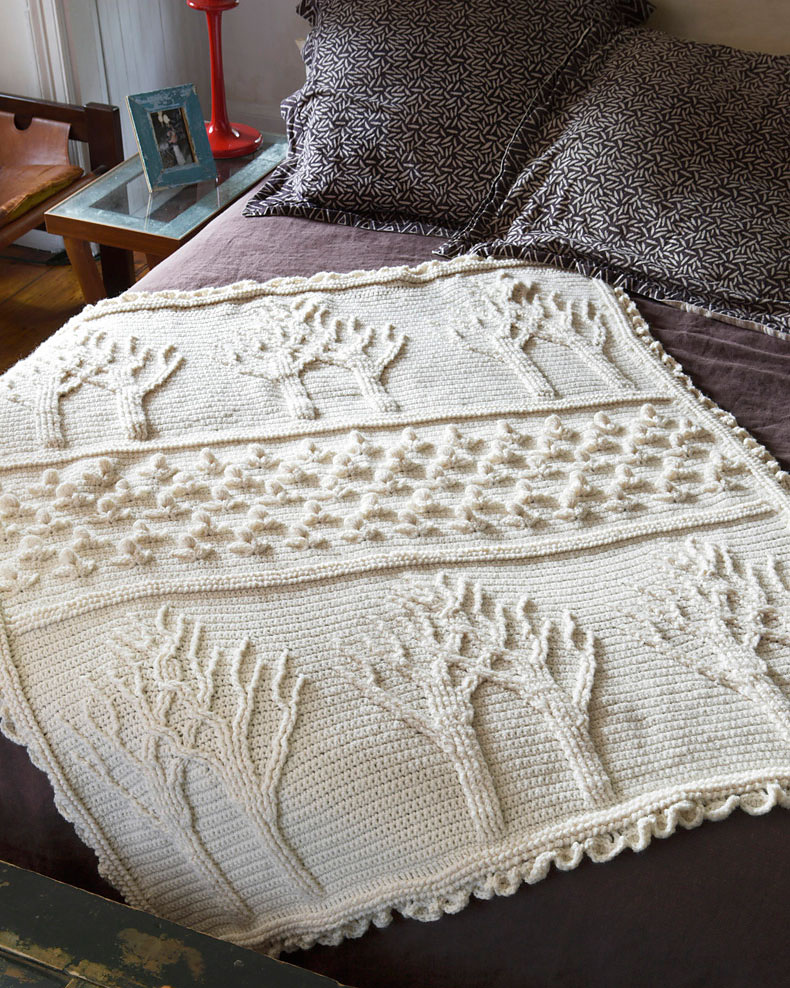 Tree of Life Afghan
Pattern/Tutorial/Images: Lion Brand Yarn
SKILL LEVEL: Experienced
SIZE: One Size
About 44 x 56 in. (112 x 142 cm)
CORRECTIONS: (applied Mar 15, 2010)
Flowers (multiple of 10 sts + 4)
Rows 14-26 25: Rep Rows 2-13.
Rows 27-3226-30: Rep Rows 2-6.
Row 33 31: Ch 1, turn, sc in each sc and ch-1 sp across.
AFGHAN
Flower Panel
Next 5 Rows: Ch 1, turn, sc in each st across. Work Rows 1-33 31 of Flowers pattern.
MATERIALS
• 620-099 Lion Brand Wool-Ease Yarn: Fisherman
15 Balls
• Lion Brand Crochet Hook – Size H-8
• Lion Brand Crochet Hook – Size J-10
• Lion Brand Stitch Markers
• Large-Eye Blunt Needles (Set of 6)
GAUGE:
15 sts + 14 rows = 4 in. (10 cm) over pattern stitches. BE SURE TO CHECK YOUR GAUGE.
When you match the gauge in a pattern, your project will be the size specified in the
pattern and the materials specified in the pattern will be sufficient. If it takes you less
stitches and rows to make a 4 in. [10 cm] square, try using a smaller size hook or needles;
if more stitches and rows, try a larger size hook or needles.
FULL PATTERN ON THE AUTHOR'S WEBSITE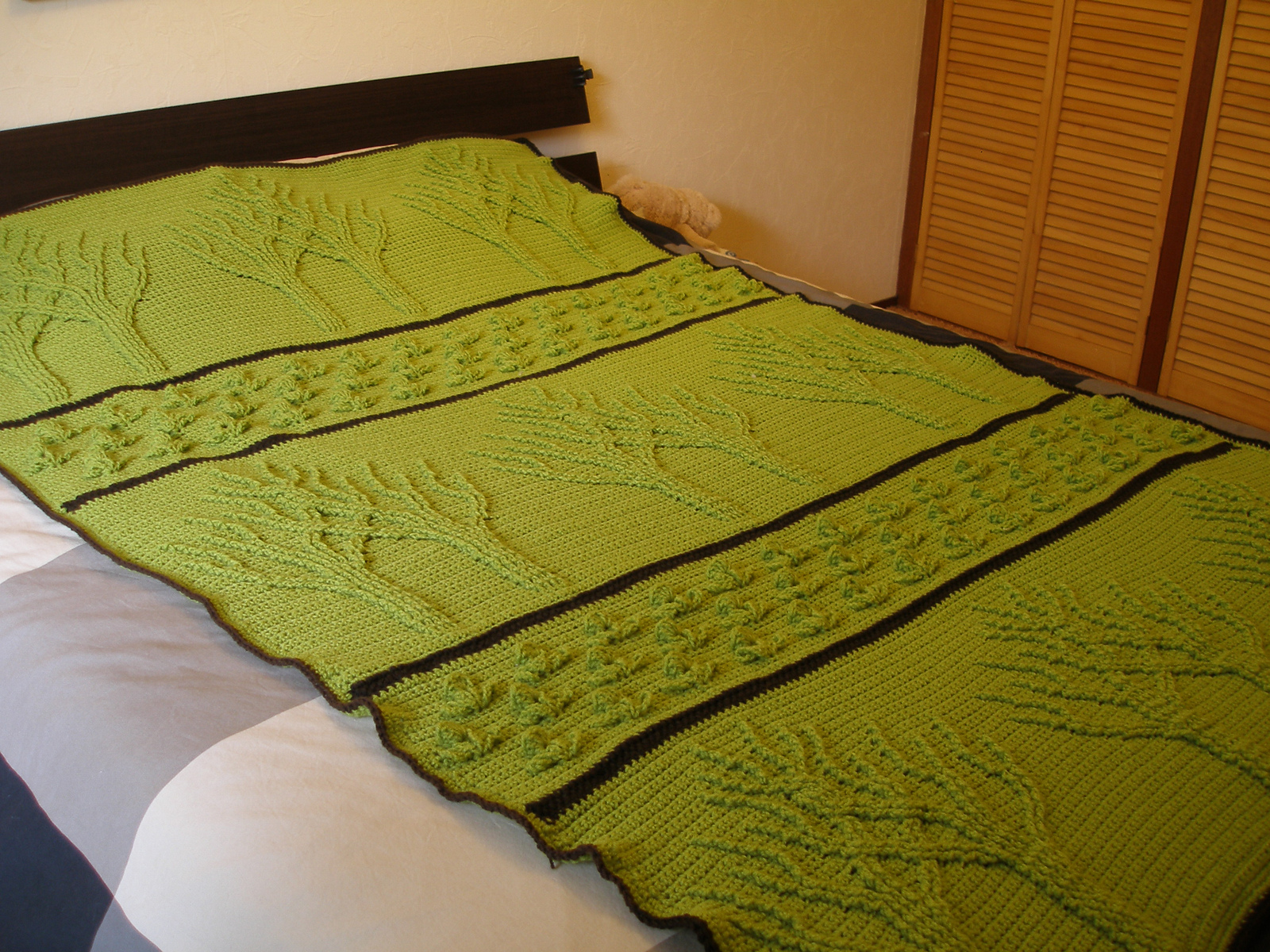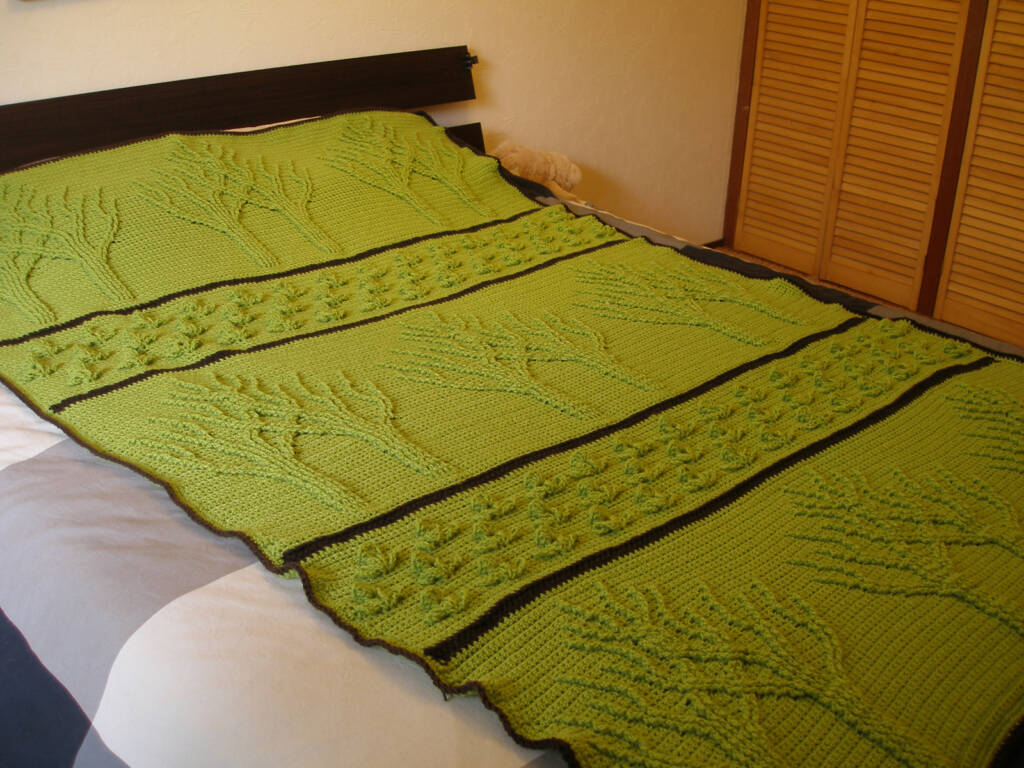 What Our Crew Thinks About This Pattern
Tree of Life Afghan, a beautiful blanket to change the look of your home in an incredible way. it has beautiful colors that can be changed according to your desire or your decoration, which is amazing and helps a lot. Many will love this beautiful piece, you can be sure that it will be successful among your customers who will definitely want one, which is great!!