Crochet Waffle Stitch Blanket, crochet is very good. And crochet with that stitch we love, is even better. You know that this crochet blanket never goes out of style and that makes us more and more passionate about this art. This blanket pattern leaves the atmosphere of the house with a harmonious, warm and inviting decoration.
In fact, crochet blankets all over the world have always had their place, whether on the bed or on the sofa. The Crochet Waffle Stitch Blanket is a versatile and showy piece. The waffler stitch has a lot of influence on your home decor. And with that in mind we have prepared this beautiful Waffle Stitch Blanket Pattern. Just follow the pattern that will help you make a beautiful blanket with this one.
Here is the pattern of this wonderful blanket with this amazing stitch. Which will surely lead you to wonderful inspirations to motivate you. Then we continue with some crochet bed blanket tips and how to use them.
Tip number 1:
You can cover the entire bed with your beautiful blanket.
Tip number 2:
You can cover the base of the bed with just one strip by folding the blanket. so at bedtime, just throw the blanket on and get warm.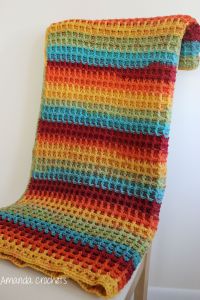 Either way, I'm sure it will be very pretty!!!
Make your choice, and check the ideal size of your blanket. The one that best fits your bed. In other words, a single bed calls for a smaller size blanket. While a double bed calls for a larger size crochet blanket that can hold the bed cover and cover two people. The size of your blanket is very important for a perfect harmony and use of your blanket.
Just as it is also important to check that the color of the blanket matches your decor and the style of your room. Taking care so that everything is more harmonious. Remembering that we spend most of our time at home. We deserve pleasant and comfortable environments for our rest.
The crocheted sofa blanket, besides being used many times to help us decorate. It has an important function which is to preserve the fabric of the sofa or hide small defects such as stains. Ideal we use it to preserve, because prevention is always better.
The coolest thing about crochet blankets, is that, you can still guarantee that extra comfort when you throw yourself on the sofa to read or watch an interesting movie. Another tip, if you don't want to keep the blanket stretched out on the couch all the time, provide a basket and place the blanket there whenever it's not in use.
Materials:
I-9 crochet hook
4 skeins of Caron Cake in Rainbow Sprinkles or any worsted weight yarn (I used 1,532 yards)
Tapestry needle
Scissors
Easy Crochet Tutorial – How to Make the Waffle Stitch Crochet Pattern
Access the free pattern here: Crochet Waffle Stitch Blanket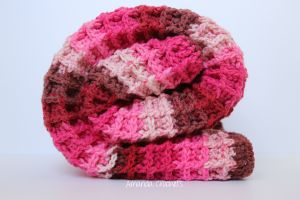 Best of all, you can enjoy crocheting. Always thinking about the harmony of colors. And once you choose the pattern of the blanket, take into account the style and color palette of your living room and bedrooms. The crocheted blankets, like any other crocheted piece you make. In home decoration, harmony will always prevail. Follow inspiring pictures and, step by step, enjoy.
This article was amazing, because it is very important to be able to share beautiful patters. Thank you for visiting our website. It is always good to help, so we will look for the most beautiful patterns. The waffler stitch is very interesting making the piece even more special. The free pattern and video tutorial Crochet Waffle Stitch Blanket will certainly help you. Follow the next steps to make your own. Through this free pattern, which we have obtained for you.