Crochet Beach Tote Bag, big, versatile and can be made easily, which is great. The bag shared here is amazingly beautiful and will help you a lot. But, the option is for those who want to make this beautiful accessory for their day at the beach. A way to be elegant even during leisure time. The bag is always very welcome to store our personal belongings and help us carry them. A fast, profitable and differentiated option for the development of your craft work.
With little material it is possible to make this beautiful crochet accessory that is considered indispensable for women nowadays. Making an accessory like this bag is always a great pleasure and it also brings a lot of joy for being able to make something so beautiful and charming that it is of great use. This bag is simple and has a very delicate finish.
If you want, decorate with some colored stones or add some shine, so you can give your personal touch and the bag is even prettier. It all depends on your and your creativity. Whether they are simple or more incremented, scholarships are part of everyday life.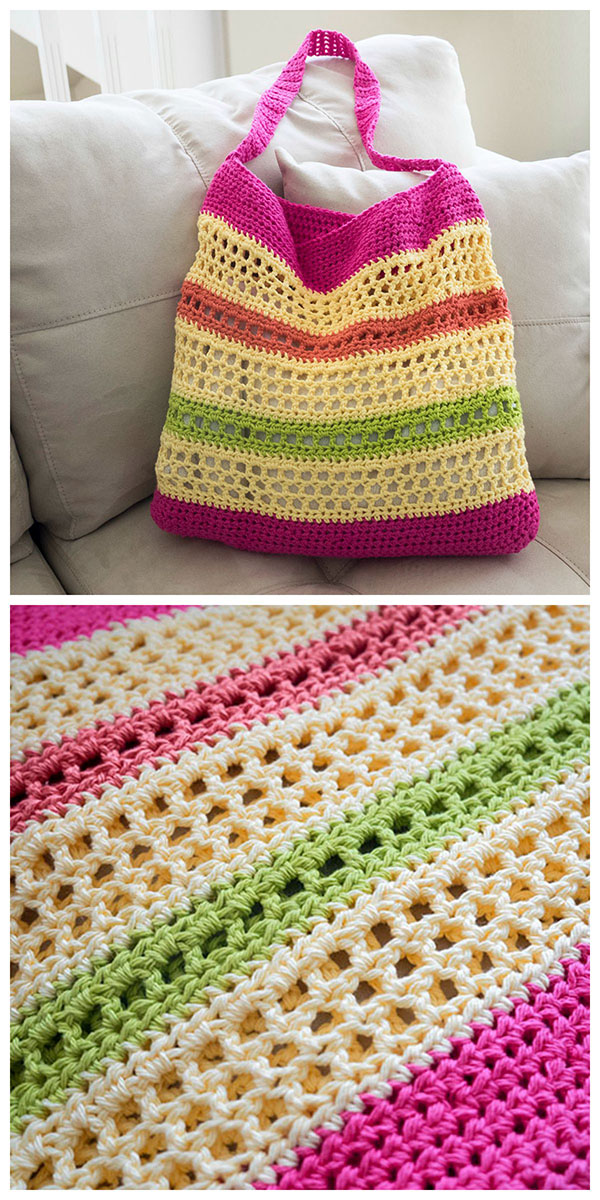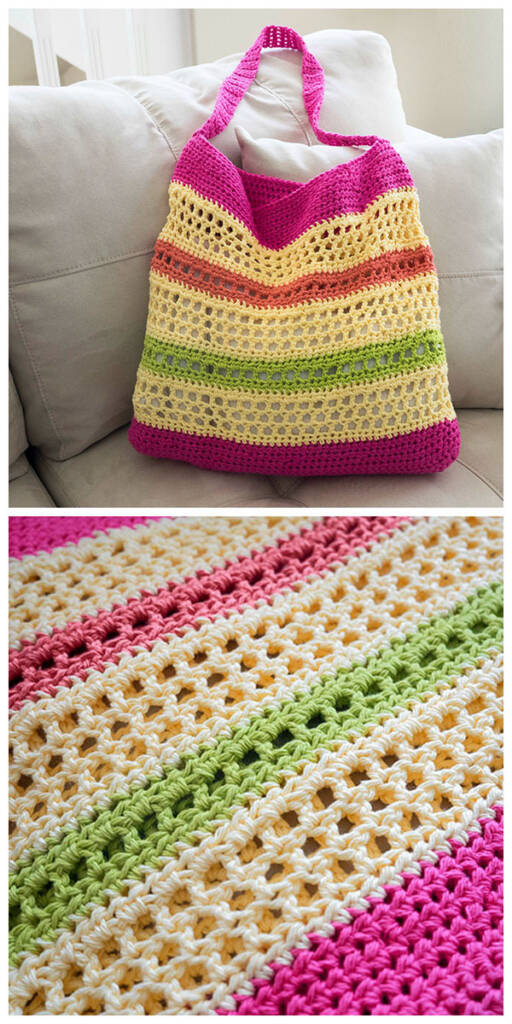 Crochet Beach Tote Bag
Pattern/Tutorial/Images: Dabbles And Babbles
Materials:
Cotton Yarn – 6 balls of cotton medium weight yarn – I used Bernat Handicrafter in pale yellow, hot pink, hot green and tangerine (color 1 x 120 yards, color 2 x 130 yards, color 3 x 40 yards, color 4 x 40 yards )
Crochet Hook – US K/6.5 mm
Stitch marker
Scissors
Yarn or tapestry needle
Directions:
Pattern is written in U.S. terminology
ch = chain, sc = single crochet, dc = double crochet, hdc = half double crochet
BOTTOM BAG:
Using color 1, chain 48 stitches.
Hdc into 2nd chain from hook, then hdc into every stitch until end, ch 2, turn. Carry on this way for 6 rows in total.
Without turning, sc back into same space as last stitch worked. Starting with the closest side of the base, sc into each row space, 2 sc into last space.
Turn to next side and sc into each stitch, 2 sc into last stitch on that side, carrying on in that fashion until the entire outside of the base is complete, making sure to do 2 sc in each corner.
FULL PATTERN ON THE AUTHOR'S WEBSITE
What Our Crew Thinks About This Pattern
Crochet Beach Tote Bag, a beautiful stylish bag for a perfect day at the beach. It will carry and store all your belongings, as well as being able to match your look. Many will love this beautiful piece, you can be sure that it will be successful among your customers who will definitely want one to enjoy a day at the beach, which is great!!